Monday 22 March to Sunday 28 March is Summer Sports Tournament Week where many young athletes representing their school at events held throughout the country. Sacred Heart had students representing the school in Water Polo, Rowing, Cricket, Triathlon, and Swimming.
Water Polo – North Island Championship, Wellington
Our Premier team was in Wellington defending their North Island Championship title. Throughout the round robin, the team won all their games with relative ease. This meant they met a very strong Rangitoto College side in the semi-final. The game was locked at 9-9 after the final quarter, resulting in a penalty shootout, where unfortunately we lost by one goal. The team then played off for 3rd and 4th place against Westlake Boys. Again, the scores were locked at the end of the final quarter, and once again, we went to a penalty shootout to decide. Again, we lost this by one goal which meant we finished 4th overall. Well done to the boys who represented the school with pride and will now go into preparations for the Auckland league Finals and Nationals.
A massive thanks to the coaching and management team; Cayne Dew, Louis Ferigo, Matt Grace, and Teena Tamati!
Rowing – Maadi Cup National Championship, Lake Karapiro
This year we sent a squad of 50 boys to the Maadi Cup National Rowing Championships at Lake Karapiro. This is the first time we have sent such a large number to this event due to the North Islands (2021) and Nationals (2020) being cancelled due to COVID.
Going into the competition our strongest medal prospects were the U16 coxed four, U18 pair, U18 Novice four, and the U18 Novice eight, based on success at the Auckland Champs and their form throughout the season. This is first time since 2016 we had a crew in the prestigious Maadi Cup final, U18 Eight. Sacred Heart and Auckland Grammar were the only two crews from Auckland and Hamilton Boys being the only other North Island school in the final. Christ College won the Maadi Cup for the second year running, by a considerable margin over Auckland Grammar.
Over the week we made a total of six A finals (top 8 position) and four B finals (top 16 position). This was a tremendous achievement.
The A final results: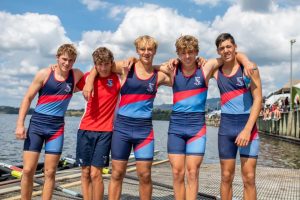 U18 Pair -7th place
U16 Four – Silver medal
U18 Novice Eight – Bronze medal
U18 Novice Four – 7th place
U17 Quad – 7th place
U18 Eight – 8th place
The boys showed great team spirit throughout the busy week. Special thanks to Eric Olsen and Mike OBrien for their time and leadership throughout the week and over the entire season.
Teachers in charge: Nick Guise, Maria Smit, Vincent O'Connor, Chris John, Jerry Leaupepe
Coach: Mike OBrien
Manager: Eric Olsen
1st XI Cricket, Auckland 1A league
Our 1st XI finished the Auckland competition as part of the Summer tournament week. They had a hugely successful week with comprehensive victories against Selwyn College, Macleans College, Mt Roskill Grammar School, and Pakuranga College. The team will now play Mt Roskill Grammar at home in a promotion match to see who gets promoted to the premier grade.
Highlights from the week include:
Lachie Stackpole's 3-17, Luca Gibson's 3-23, and Aaron Mansfield- Putt's 55 against Selwyn College.
Darcy Porter's 3-30, Joel Inglis's 56, and Elias Falanitule's 29 off 8 balls against Macleans College.
Elias Falanitule's 4-23, Louie Chandulal's 75, Joel Inglis's 88, and Lachie McHardy's 4 catches against Mt Roskill Grammar School.
10 Game Baggy Caps for Digby Turner, Lachie McHardy, Ollie Gibson, Darcy Porter, Dominic Kelleher, and Fraser Farrell.
50 game milestone for the SHC 1st XI for Elias Falanitule.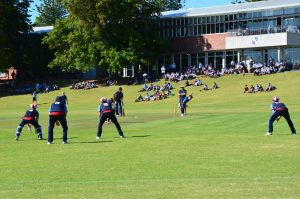 Teacher in Charge – Br Gerard Mahony
Coach -Dave Richardson
Manager – Matt McHardy and Jared Taylor
Triathlon – National Champs, New Plymouth
Sacred Heart College was well represented at the NZSS Triathlon Champs in New Plymouth. Rain overnight meant racing conditions were certainly challenging with wet roads testing athlete's bike skills over the difficult cycle course. A number of athletes getting a taste of the tarmac during the cycle section. Highlight's from the junior events included Henry Moore in the Under 12 race. Exiting the water in 3rd Henry raced strongly throughout to claim a top 10 placing, finishing in tenth. In the Under 14 race Nicholas Rooney and Charlie Richardson showed they weren't afraid to mix it with more experienced athletes and despite both boys having slow swims worked their way through the field to finish in 15th and 16th place respectively. In the Under 19 senior boys event, Matthew Mitchell was determined to build on his Auckland Champs performance and again raced strongly throughout to finish 13th.
The afternoon saw athletes combine for the Tag Team relays. Here four students combine to create a team where each athlete does a short sprint Tri before tagging their teammate. By this stage the weather was terrible with choppy sea conditions, high winds, and rain battering the athletes. In the Under 14 mixed team relay Henry Moore and Camden Burke combined with two Baradene girls to narrowly miss out on a medal finishing 4th. The Under 14 boys team of Charlie Richardson, Lachie Henwood, Kaleb Rawiri and Nicholas Rooney proved that discipline and hard work when training pays off as they lead from start to finish taking GOLD. Well done boys.
Swimming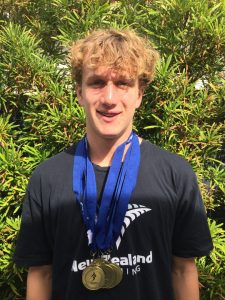 Year 11 student, Ryan Peck, had an outstanding weekend at the Auckland Age Group Swimming champs gaining seven medals in total – five Gold, one Silver, and one Bronze.
GOLD – 50m, 100m & 200m Backstroke, 200m Freestyle, and 400m Medley
SILVER – 100m Freestyle
BRONZE – 200m Medley
Ryan continues training hard for the National Age Group Swimming champs in April and is a part of the Swimming New Zealand National programme.